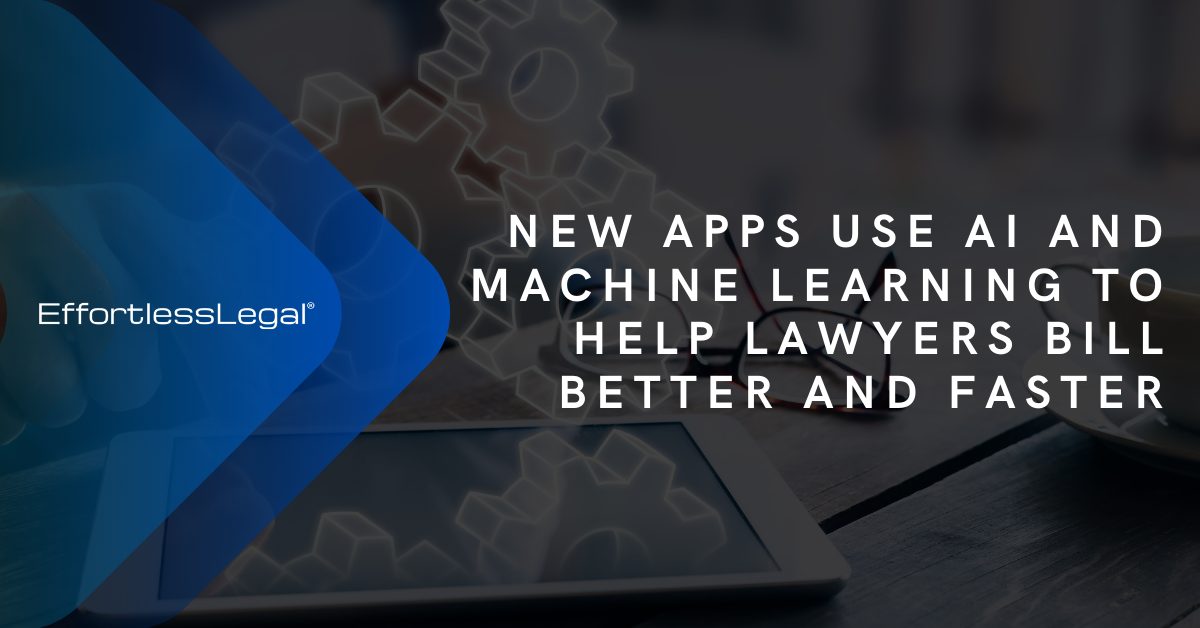 CHICAGO, IL:  EffortlessLegal, a Chicago-based tech company bringing advanced automation and machine learning products to the legal space, announced the first public launch of various feature improvements with its BillerAssist line of applications.  
These applications – called "BillerAssist", "Effortless EasyCodes", and "BillerAssist EasyCodes Edition" —  allow law firms to easily add powerful Artificial Intelligence (AI) and machine learning capabilities to their existing billing systems.  The new feature improvements help law firms use these powerful features even more quickly and efficiently, with set up time taking less than five minutes.  Firms interested in learning more can get a free trial before making a purchase decision.   
"Our BillerAssist products adapt to each law firm, and become more accurate the more you use them — which is revolutionary in this space. This means law firms save even more time each month they use our apps," said Holly Urban, CEO and co-founder of EffortlessLegal.  In addition, Urban said that all of the EffortlessLegal company's applications have been streamlined for easy set up.  "Don't just take our word for it – we have demonstration videos on our website showing the apps being set up," Urban added.  "You can see in the videos that the set up process takes less than 5 minutes!" 
The company's BillerAssist applications offer law firms secure and easy-to-use cloud-based services that: (1) reduce or eliminate write-downs and write-offs;  (2) completely automate UTBMS/LEDES coding with no pulldown menus or manual selections needed; and  (3) easily ensure billing rules and guidelines compliance, all with built-in machine learning that adapts to the law firm's specific needs.  "Partners in law firms should not have to spend hours reviewing bills every month.  Partners also should not have to train associates and paralegals how to bill.  In addition, law firms should not have to manually enter LEDES (UTBMS) codes.  Now, they don't have to!" said Urban. 

"Our apps allow you to use your own billing data to check for problematic entries in real-time, and provide users with approved work descriptions, and automatically apply UTBMS/LEDES codes to new entries," explained Urban.  "We offer demonstration videos on our website to show exactly how easy it can be to get your bills out faster," she added.  Law firms can have each timekeeper use the app to help their associates and paralegals avoid doing excessive or unbillable work. This increases realization rates and efficiency.  Alternatively, law firms can buy just one user account and use that one account for all their invoice processing and approval needs.
Using the BillerAssist applications, law firms can speed up invoice approval to get their bills out faster.  With cost pressures mounting from many different kinds of clients, these important features help law firms to avoid write-downs and write-offs with the billing.  In addition, "[o]ur test law firms reported that clients are requiring compliance with Outside Counsel Billing Guidelines," said Urban.  Non-compliant invoicing can cause clients to reject invoices.  "This means law firms have to take special care to avoid violating their client's requirements, which slows down the billing process substantially," Urban added.   
The BillerAssist apps eliminate this bottleneck by allowing law firms automatically train their timekeepers, and avoid non-compliant billing entries at the source.  Even if the apps are used just for invoice review and approval alone, videos on the EffortlessLegal website show that law firm bills can be reviewed and approved at least five times faster than ordinary manual processes.  "Our test law firms continue to report having saved hundreds of hours in partner time formerly spent on reviewing and approving their bills," Urban added.   
The latest version of the apps substantially speeds up how users get their billing entries processed.  The company's products work with many established billing platforms, and do not require switching to a new billing system.  Instead, law firms simply import their entries into the BillerAssist applications for automated processing, and then export the processed entries back to their billing system for invoicing.  "The earlier versions of the apps allowed more granular controls," Urban explained. 
"Now, our users can easily bypass the granular controls, and get an entire month of billing entries processed with a single mouse click!"
The company also added LEDES 1998B and LEDES 1998BI importing and invoice creation capabilities.  By adding the new ways to import and export their billing entries, EffortlessLegal allows more law firms to easily and quickly interface with their existing billing systems.  For example, if a law firm's existing billing system allows users to create invoices in LEDES 1998B or LEDES 1998BI format, the law firm can simply use the formatted invoices to have their entries processed in the BillerAssist apps.  Then, a new invoice with the processed entries can easily be generated from the BillerAssist apps.  Videos on the EffortlessLegal website show this action being completed from start to finish in just minutes.  "Our 'beta' release allowed users to import their own billing data with direct integrations or CSV files. By adding LEDES 1998B and LEDES 1998BI support, our apps work easily with even more billing systems," Urban added.  
In addition, the new features allow law firms to create invoices in the special formats, even if their existing billing system does not provide the capabilities.  "In our 'beta' testing, we discovered that many law firms needed an easy way to convert billing data into LEDES 1998B and LEDES 1998BI invoice files directly from our app," said Urban.  Moreover, many billing systems do not allow users to create "bulk" or "batch" invoices, in which billing entries for multiple matters for the same client are all included in the same invoice.  The BillerAssist apps make the process of "bulk" or "batch" invoice creation super simple.  "We were excited to add these new features, not only to make our 'beta' testers happy, but also because they add to our growing support for many different law firm needs," Urban added. 
###
About EffortlessLegal:  EffortlessLegal allows you to keep your billing system, but also obtain the latest in automation technology.  The company is privately held, and headquarter in Chicago, Illinois (USA).  "EffortlessLegal" and all product names and logos are trademarks owned by EffortlessLegal LLC. All rights reserved.